< Back to Faculty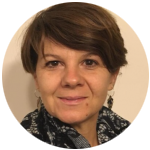 Tel: +39 06 7259 6487
Email: candi@uniroma2.it
Office:
Bldg F Nord, 1st floor, room 178
Faculty of Medicine and Surgery
Department of Experimental Medicine
University of Rome "Tor Vergata"
Via Montpellier 1 – 00133 Rome | Italy


ORCID |

Twitter |

Scopus
Short biographical sketch of Prof Eleonora Candi
Prof Eleonora Candi received her PhD degree at the Department of Experimental Medicine and Biochemical Sciences, University of Rome "Tor Vergata" in 1995. She did her pre‐ and post‐doctoral training, from 1993-1998 at the Skin Biology Branch, NIAMS, National Institute of Health, Bethesda, USA, working under the supervision of Dr PM Steinert on transglutaminases and their substrates. From 1999 to 2001, she received a Telethon Research Fellowship to study the role of transglutaminases in the genetic disease lamellar ichthyosis. In the past two decades, scientific interests of her group have been focused on study of the role of transcription factor p63, a homolog of p53, and microRNAs in epithelia development and tumour formation. She is currently a Full professor of Biochemistry at University of Rome "Tor Vergata". Professor Candi is author of over 180 articles (H-index 50, >15.000 citations). She is also Editor-in-Chief of a Springer journal Discover Oncology as well as editorial board member of multiple international journals.
Editorial experience
Editor-in-Chief for Discover Oncology
Editorial Board of The FEBS Journal
Editorial Board of Encyclopedia of Life Sciences
Editorial Board of Cell Cycle
Editorial Board of Cell Death Disease
Referee for several scientific journals (e.g. Cell Reps, Nature Comms, Cell Death & Differ, Oncogene, Journal Invest Dermat, and others)
Funding
1999 | Telethon Grant 417/bi
2002 | Telethon Grant GP002251
2006 | Telethon Grant (2006-2009) GGP06048
2006 | PRIN (2006-2007)
2006 | Ministry of Health IDI-IRCCS (2007-2009)
2012 | AIRC, Italian Cancer Association (2013-2016)
2016 | Fondazione Roma (2016-2017)

Current funding:
2018 | Mistry of Health IDI-IRCCS, resp. UO (2018-2020)
2018 | MISE, Cooperation Italy-China, PI (2018-2021)
2019 | AIRC, Italian Cancer Association, PI (2019-2023)
2020 | Ministry of Health, Ricerca Finalizzata, PI (2020-2023)
2021 | Regione Lazio, PI (2021-2023)
2022 | Ministry of University, PNRR-PE6 (2022-2026)
2023 | Ministry of Health, PNRR-MAD (2022-2024)
See a full CV of Prof Eleonora Candi.
Current scientific directions of the Candi Lab:
Prof Candi has been studying the biology of p63, the master regulator of epithelial development, since its discovery by Frank McKeon in late 1990s. In the past two decades, Prof Candi and her group identified multiple transcriptional targets of p63 both in skin and cancer which has broadened our current understanding of p63-orchestrated regulation of gene expression. In the recent years, Prof Candi expanded her research into understanding of a complex network of p63-regulated genes, its cofactors, non-coding RNAs and cellular metabolism in epithelia and cancer.

Here are current scientific directions of the Candi lab:
(1) Role of p63 & chromatin remodelling in epithelia proliferation & differentiation;
(2) Role of microRNA & ncRNAs in skin homeostasis & stratification
(3) p53 family members in squamous cell carcinoma;
(4) Generation and characterisation of transgenic mice;
(5) Cell metabolism in normal epithelia and pathologies.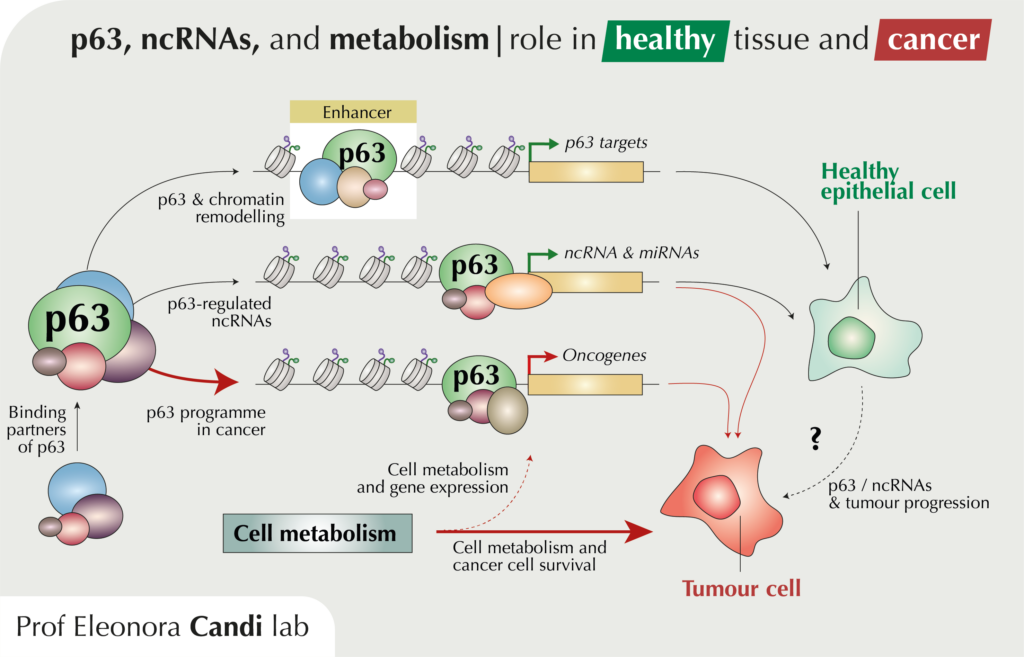 @CandiLabRome
< Back to Faculty