The PhD in Biochemistry and Molecular Biology, thanks to its Faculty Members organises numerous seminars as well as online events to cover a broad range of research, with interventions from prominent national and international speakers.
Each student has unique and frequent possibility to interact with the speakers during the discussion.
LATEST EVENTS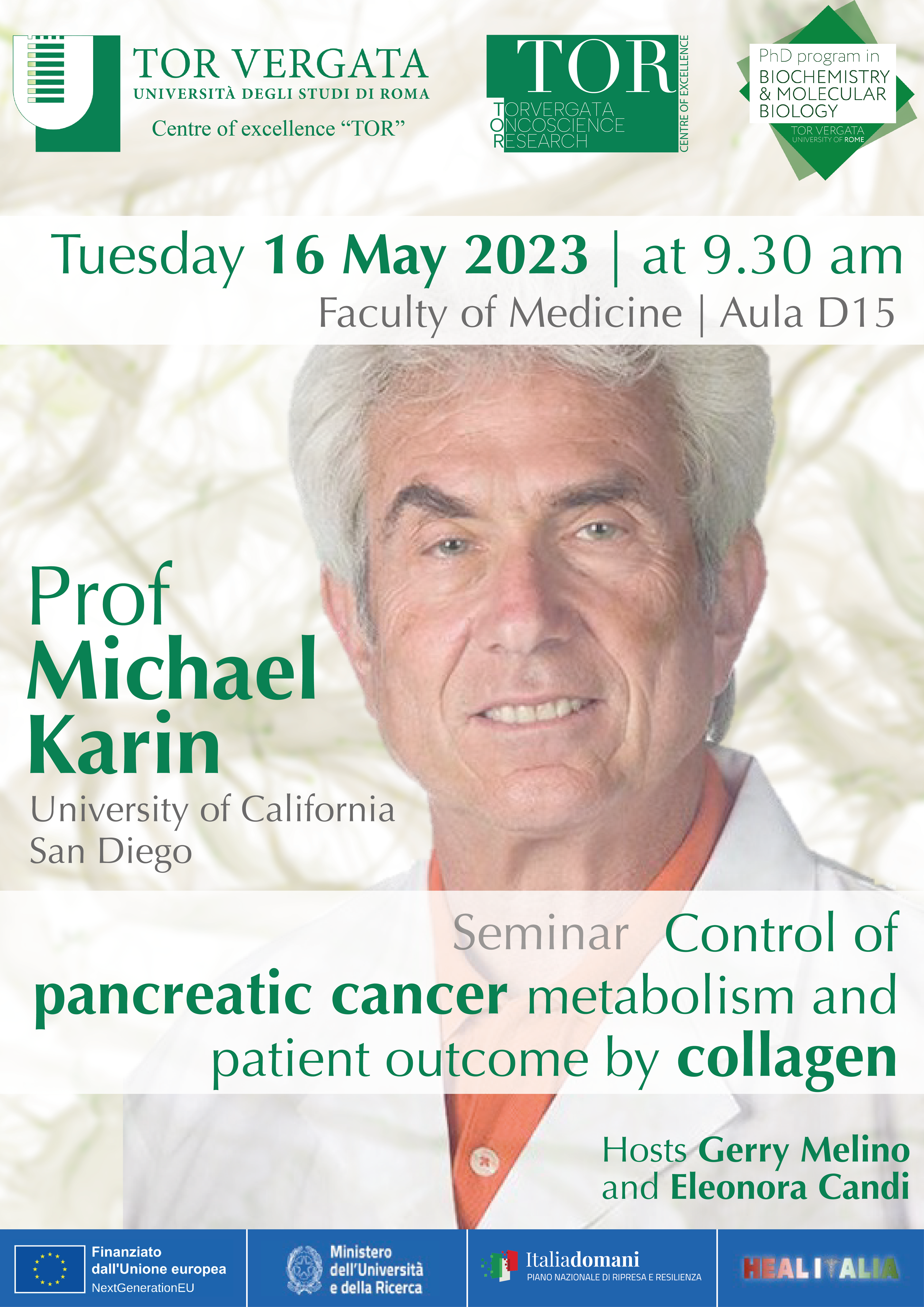 16 May 2023 – 09.30 am CET
Aula D15 – Faculty of Medicine
Rector's Award 2023 Seminar on role of collagene in cintrolling pancreatic cancer metabolism
Professor Michael Karin
University of California San Diego
Read more about Prof Karin and his latest work on pancreatic cancer.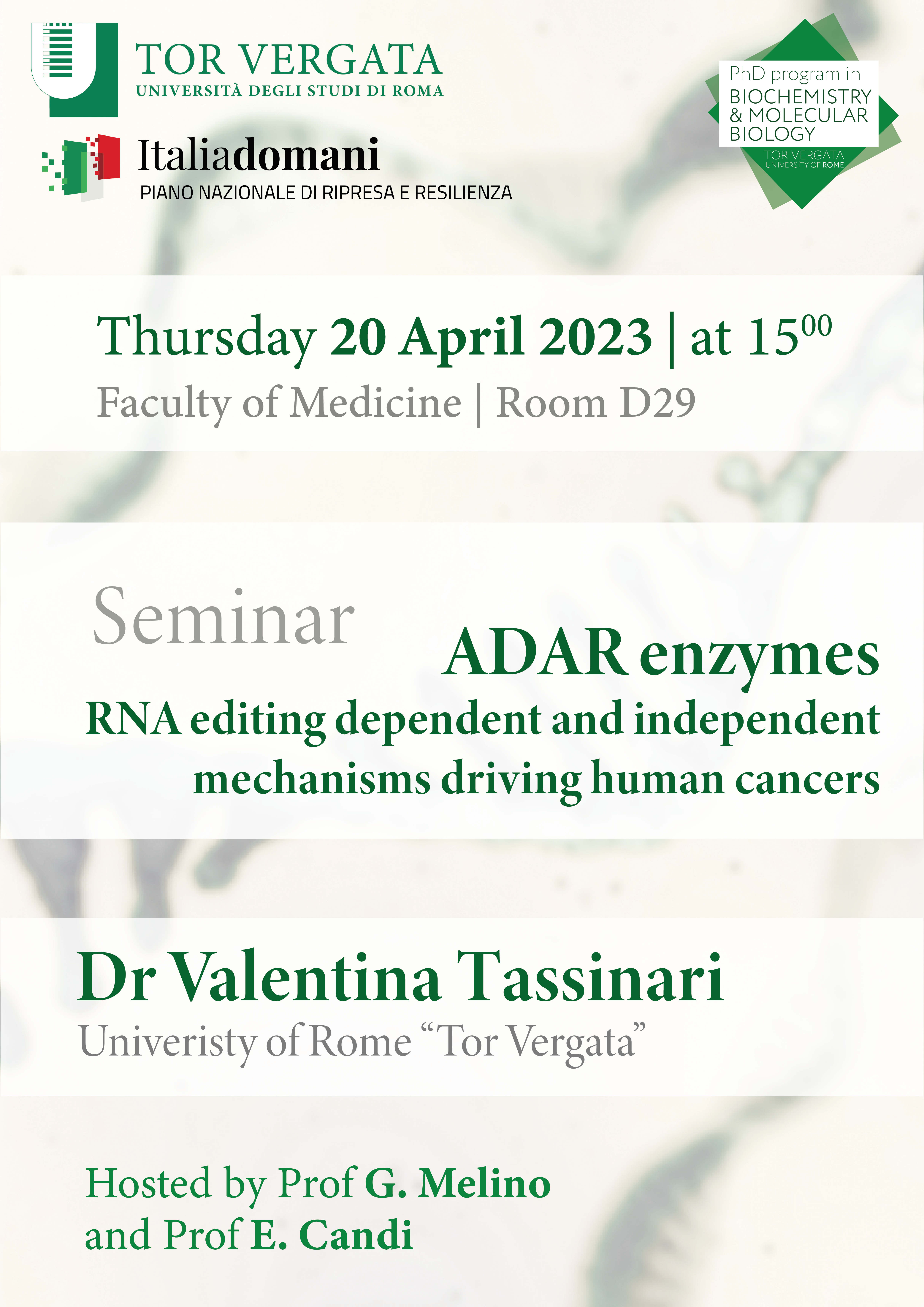 20 April 2023 – 15.00 pm CET
Seminar on ADAR enzymes and RNA editing
Valentina Tassinari, PhD
University of Rome "Tor Vergata"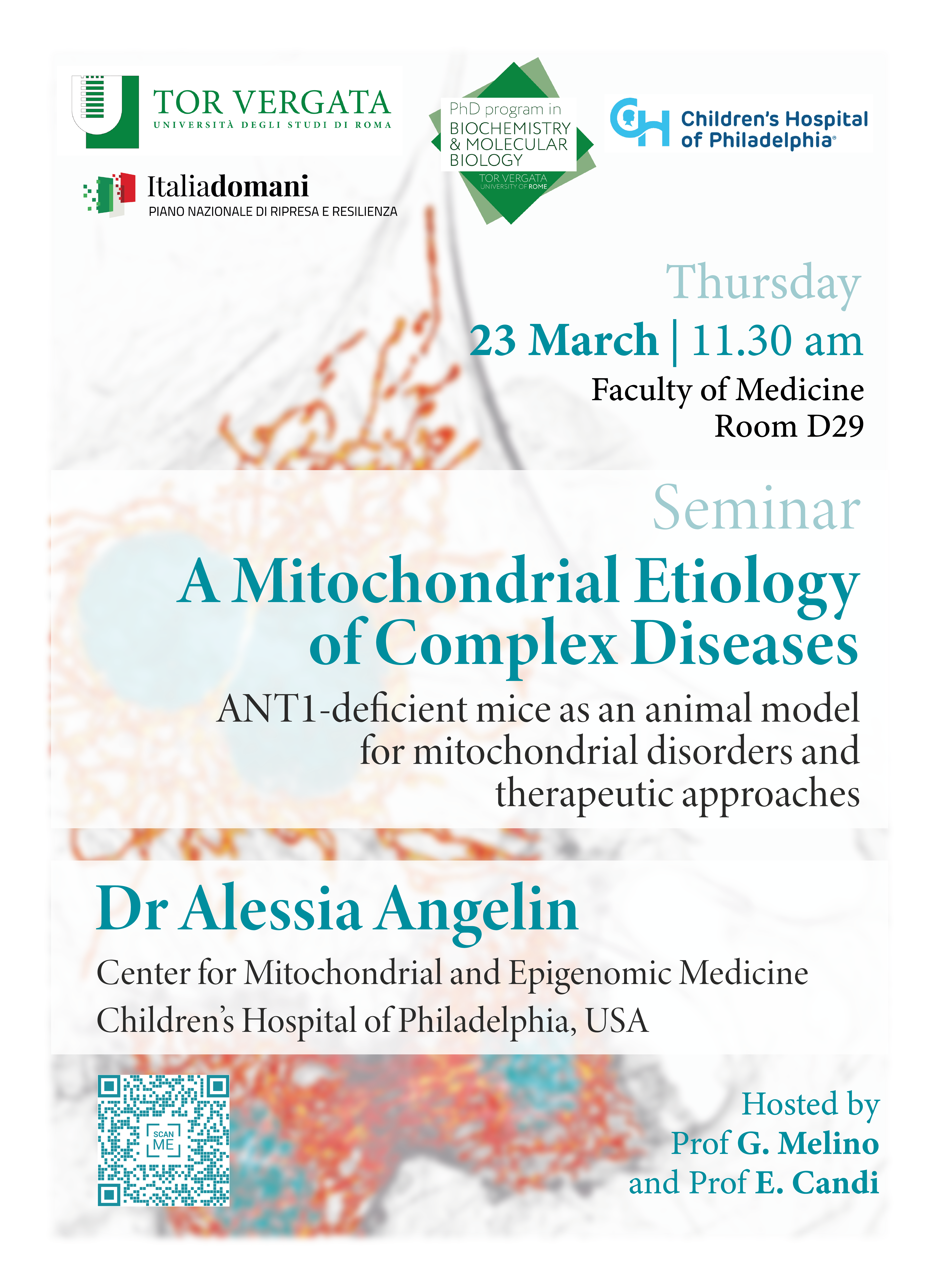 23 March 2023 – 11.30 am CET
A Seminar in mitochondrial disorders
Alessia Angelin, PhD
Center for Mitochondrial and Epigenetic Medicin (USA)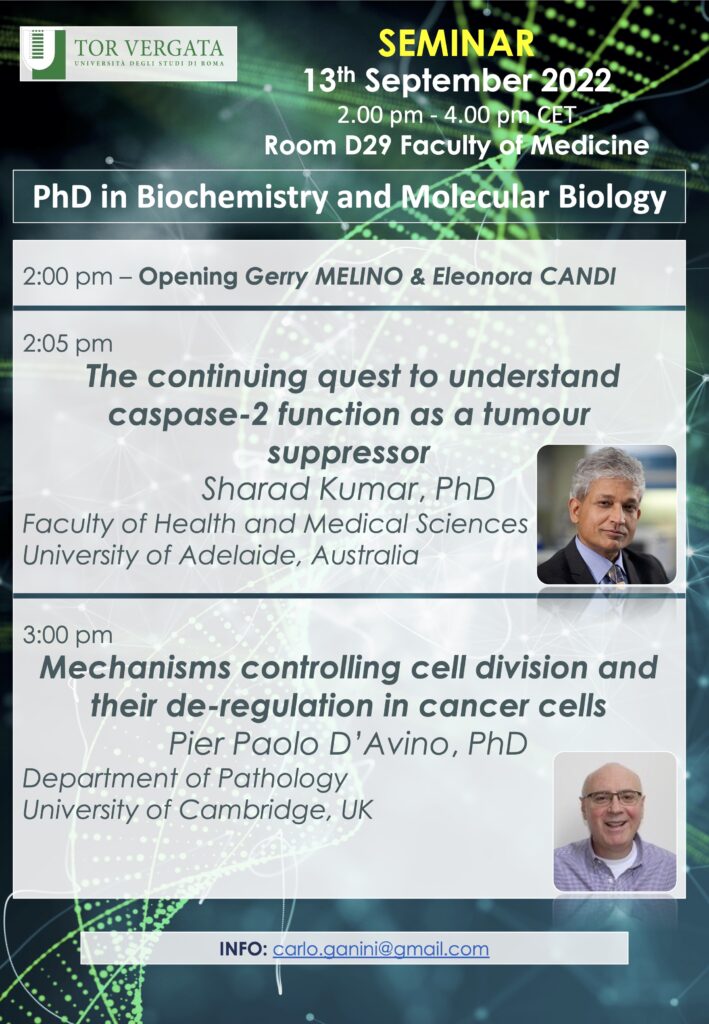 13 September 2022 – 2.00-4.00 pm CET
The continuing quest to understand caspase-2 function as a tumour suppressor
Sharad Kumar, PhD
University of Adelaide, Australia
Mechanisms controlling cell division and their de-regulation in cancer cells
Pier Paolo D'Avino, PhD
University of Cambridge, UK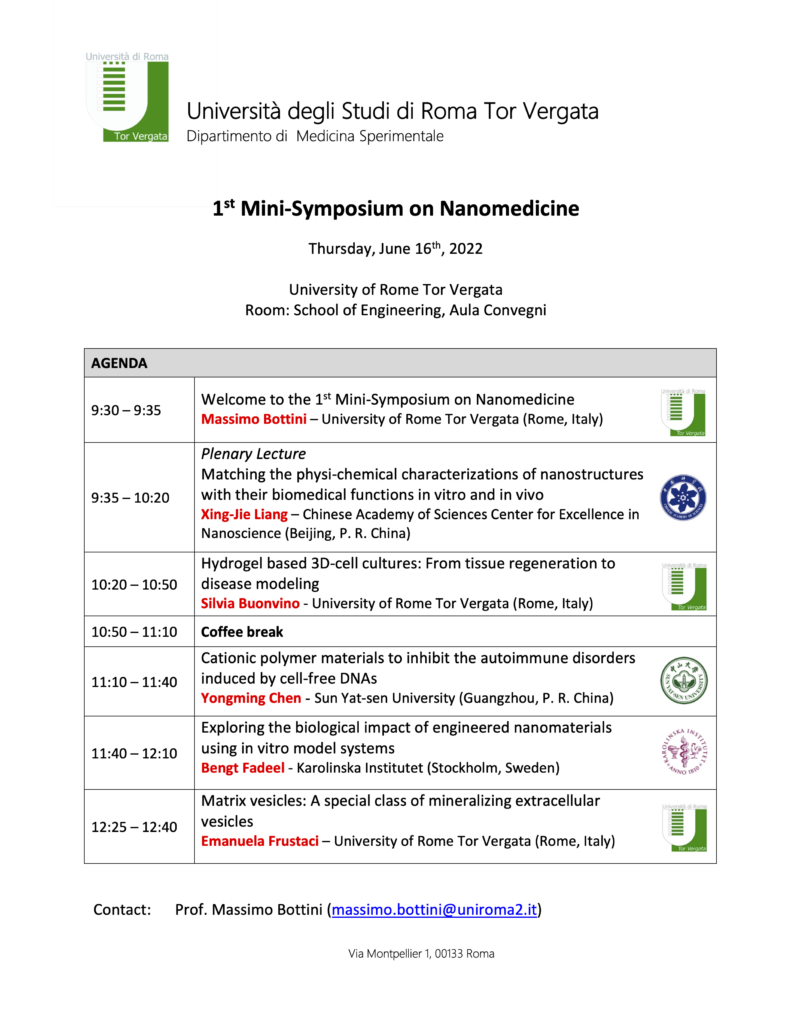 16 June 2022 – 9:30 am CET
1st Mini-Symposium on Nanomedicine
Plenary Lecture
Matching the physi-chemical characterizations of nanostructures with their biomedical functions in vitro and in vivo
Xing-Jie Liang – Chinese Academy of Sciences Center for Excellence in Nanoscience (Beijing, P. R. China)
Immunogenic stress and death in cancer therapy
Long-range effects of the intestinal microbiota on cancer immunosurveillance
Prof. Guido Kroemer & Prof. Laurence Zitvogel
Gustave Roussy Cancer Campus (Paris)
Mitochondrial reactive oxygen species in cardiac physiology and disease
Nina Kaludercic, PhD
Neuroscience Institute
National Research Council of Italy (CNR) Padova
Harnessing metabolic dependencies in cancer and inflammation
Simone Cardaci, PhD
San Raffaele Hospital, Milan
Mechanics and regulation of cell division
Pier Paolo D'Avino, PhD
University of Cambridge, UK
Beyond Immune Checkpoints Blockade: Emerging Strategies
Prof. Tak W Mak
Princess Margaret Cancer Centre, Canada
ECDO/CDDpress Seminar
From COVID-19 to necroptosis:
Cytoplasmic Nucleic Acid Sensing
2nd Italy-China Joint Symposium
Targeting the replication stress to eradicate cancer stem cells
Ilio Vitale, PhD
Oncologic Institute Candiolo, Turin
I Joint Symposium:
Projects form Biochemistry and Molecular Biology PhD program
COVID-19: Prevenire e Curare
COVID-19: i numeri dicono sempre la verità?
G. Ippolito
INMI L. Spallanzani
Old posts
September 14th 2015
Prof. Wei WONG, PhD
Editor Science Signaling, Editor Science
"The Editorial Process at Science Signaling and the Science Family of Journals"
invited by Prof. Gerry Melino
March 25th 2015
Dr. John RYALS, PhD
CEO Metabolon Inc USA
"Surveying the individual metabolome: from inborn errors of metabolism to personalized medicine"
invited by Prof. M. Federici
November 6th 2014
Alfredo NICOSIA, PhD
Chief Scientific Officer and co-founder Okairos, Roma
"Okairos: a successful Biotech story. From basic science to a biotech spin-off"
"Vector-based genetic vaccines: the Ebola story"
invited by Prof. G. Cesareni
October 1st 2014
Prof. Doug R. GREEN, PhD
Chair of Immunology, St. Jude Children's Research Hospital, Memphis, USA
"Balancing Act: How caspases and RIP kinases control development"
invited by Prof. Gerry Melino
September 11th 2014
Prof. George A CALIN, MD, PhD
Dept. of Experimental Therapeutics, Division of Cancer Medicine, The University of Texas MD Anderson Cancer Center, Houston, TX
"About Chomsky, DNA motifs, non-codingRNAs and cancer patients"
invited by Prof. Gerry Melino
July 25th 2014
Prof. Miguel WEIL, PhD
Laboratory for Neurodegenerative Diseases and Personalized Medicine , Department of Cell Research and Immunology, The George S. Wise Faculty of Life Sciences, Tel Aviv University
"New approach in the road towards drug personalized medicine for rare diseases"
invited by Prof. Gerry Melino
June 30th 2014
Prof. Gianfranco GILARDI, PhD
Full Professor of Biochemistry, Department of Life Science and System Biology, University of Torino
"Structural basis of cytochrome P450 function in cell defense and sexual development"
invited by Prof. Gerry Melino
May 21st 2014
Prof. Anne (E) WILLIS, PhD
Director, MRC Toxicology Unit, University of Leicester, UK
"Post-transcriptional control of gene expression following cell stress"
invited by Prof. Gerry Melino
March 25th 2014
Dr. Tilmann ACHSEL, PhD
Senior Scientist, laboratory for the Research of Neurodegenerative Diseases, Department of Molecular and Developmental Genetics, VIB, Leuven, Belgium
"The various steps of mRNA metabolism, and their role in neurodegeneration"
invited by Prof. Gerry Melino
March 7th 2014
Prof. Gabriel RABINOVICH, PhD
Chief of Immunopathology lab., Institute of Biology and Experimental Medicine (IBYME), Buenos Aires-Argentina
"ANGIOGENESIS & CANCER: Galectin-1 regulates VEGFR2"
invited by Prof. Gerry Melino
December 20th 2013
Prof. Ruggero DE MARIA, MD
Scientific Director
Istituto Regina Elena
"Strategies for targeting cancer stem cells"
invited by Prof. Gerry Melino
October 4th 2013
Prof. Alexej VERKHRATSKY
Professor of Neurophysiology, Faculty of Life Sciences, University of Manchester, UK
"Pathophysiology of astroglia with special emphasis on Alzheimer's disease"
invited by Prof. Gerry Melino
October 28th 2013
Prof. Sharad KUMAR
Director, Centre for Cancer Biology, SA Pathology, Adelaide, Australia
"Molecular Mechanisms Of Cell Fate"
invited by Prof. Gerry Melino
May 14th 2013
Dr. Isaac Spencer HARRIS
Princess Margaret Hospital, University Health Network, Toronto, Canada
"Looks can be deceiving: the role of antioxidants in cancer"
invited by Prof. Gerry Melino
February 1st 2013
Prof Yufang SHI, PhD
Director of the Institute of Health Sciences, Shanghai Inst. for Biol. Sci of Chinese Academy of Sciences & Shanghai Jiao Tong Univ. School of Medicine
"Modulation of Immune Responses by Mesenchymal Stem Cells"
invited by Prof. Gerry Melino
September, 18th 2012
Francesca MASCIA, PhD
NCI Center for Cancer Research, Lab. of Cancer Biology and Genetics
"Epidermal ablation of EGFR impairs skin immuno-homeostasis and epithelial differentiation: implication in the pathogenesis of the rash in patients treated with anti-EGFR drugs"
invited by Prof. Gerry Melino
13th July 2012
Prof. Sharad KUMAR
Director, Centre for Cancer Biology, SA Pathology, Adelaide, Australia
"Nedd4 family of ubiquitin ligases in cellular homeostasis and disease"
invited by Prof. Gerry Melino
20th April 2012
Jekaterina ĒRENPREISA, MD
Leading Researcher and head of Laboratory in the Latvian Biomedicine Research and Study Centre, Riga
"Chromosome instability and senescence as a drive and break for cancer"
invited by Dr. ssa Patrizia Vernole
19th January 2012
Dott.ssa Anna Maria LENA
Scientist at Dept. Experimental Medicine and Biochemical Science, Roma
"ChiP-Seq lecture"
invited by Prof. Gerry Melino
19th January 2012 Agenzia trapianti Lazio -UTV
Dr. Armando FELSANI
Senior scientist at Genomnia srl, Lainate, Milano and
CNR, Istituto di Biologia Cellulare e Neurobiologia, Roma
"Next Gen Sequencing: transcriptomics"
invited by Prof. Gerry Melino
13th December 2011
Dr. Armando FELSANI
Senior scientist at Genomnia srl, Lainate, Milano and
CNR, Istituto di Biologia Cellulare e Neurobiologia, Roma
"Next Generation Sequencing – tecnologia e applicazioni"
invited by Prof. Gerry Melino
24th October 2011
Prof. Sharad KUMAR
Director, Centre for Cancer Biology SA Pathology, Adelaide, Australia
"Caspase-2 function in tumour suppression and oxidative stress regulation"
invited by Prof. Gerry Melino
24th October 2011
Prof. Richard KNIGHT
MRC Toxicology Unit, Leicester, UK
"Neuronal effect of miR-34a"
invited by Prof. Gerry Melino
27th September 2011
5th Departmental Scientific Day on Immunology: from life to death
Chairs: Alessandro Finazzi & Gerry Melino
Dirk BRENNER, Toronto, CANADA
"HPK1: A molecular switch between life and death in T cell"
Anne BRUESTLE, Toronto, CANADA
"Impaired Th17 differentiation in the absence of MALT1"
David L. VAUX, Melbourne, AUSTRALIA
"IAPs and smac-mimetics: From caterpillars to clinic"
David L. VAUX, Melbourne, AUSTRALIA
"Ten rules for the presentation and interpretation of data
in publications"
20th June 2011
4th Departmental Scientific Day
Chairs: Alessandro Finazzi & Gerry Melino
30th May 2011 Agenzia Regionale del Lazio per i Trapianti
Prof. Lucio RUSSO
Professore Ordinario di Calcolo delle Probabilità, Dipartimento di Matematica, Università di Roma Tor Vergata
"Contributo dei medici allo sviluppo della scienza italiana"
invited by Prof. Alessandro Finazzi Agrò
12th May 2011
Prof. Arnold J. LEVINE
Institute for Advanced Study The Simons Center for Systems Biology Princeton
"The Role of p53, p63 and p73 in Germ Line Genetic Stability"
invited by Prof. Gerry Melino
25th February 2011
Prof. Yufang SHI
Institute of Health Sciences Shanghai Institutes for Biological Sciences, Chinese Academy of Sciences & Shanghai Jiao Tong University School of Medicine
"Regulation of Immune Responses by Mesenchymal Stem Cells"
invited byProf. Gerry Melino
27th October 2010
Prof. Thomi BRUNNER
Biochemical Pharmacology, Dept. of Biology, University of Konstanz
"The Jun kinase-Bim axis in the amplification of the mitochondrial apoptosis pathway"
invited by Prof. Gerry Melino
22nd October 2010
3rd Departmental Scientific Day on Frontiers in Experimental MedicineChairs: Pietro Guerrieri & Richard A. Knight
Douglas R GREEN, Memphis, Tennessee, USA
"Fueling Immunity: Metabolic Reprogramming in Activated T Lymphocytes"
Alessandro MICHIENZI, Rome, Italy
"Editing of HIV-1 RNA by the double-stranded RNA deaminase ADAR1 Stimulates Viral Infection"
Alberto BACCI, Rome, Italy
"Direct Action of Two Major Antidepressants on a Specific Inhibitory Circuit of the Hippocampus"
Jessie GUO, New Brunswick, NY, USA
"Activation of Autophagy in Aggressive Cancers"
Eileen WHITE, New Brunswick, NY, USA
"Role of Autophagy in Sustaining Tumor Cell Metabolism"
7th June 2010, Agenzia Trapianti Lazio
2nd Departmental Scientific Day
Chairs: Alessandro Finazzi & Gerry Melino
7th June 2010
1st Departmental Scientific Day on
Neurodegeneration
Chairs: Giuseppe Novelli & Gerry Melino
Therapeutic targets in disease
Chairs: Maurizio Paci & Massimo Andreoni